Original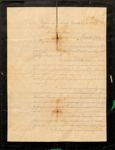 Ecuandureo Mich. Agosto 21 de 1919.

Señor Maximino Torres Knobles, Okla.

Hijo de mi aprecio:
En mi poder, tu carta de 3 de Agosto del presente año, por la cual recibí mucho gusto y estoy enterada de ella.
Te noticio que tu papa ya fallecio y como me dises que vives muy inconforme por la desconformidad que teníamos yo y el, ya ahora espero estes conforme y como vez con lo que ha pasado ya ahora ya no tengo quién se duela de mí nada más tú.
te aviso á la vez que ahora estoy muy mortificada por razón á que Teodosio ya no puede ir a Pasímaro porque dicen los mismos de la casa de en case tío Juan que aunque ya murió tu pa papa, pero que quedó Teodocio y que con él se vengarán.
Tu dime qué es lo que hago con esta mortificación porque esto se comprende que lo dicen para que yo no mueva nada del pedasito de tierra.
A tu papá no lo vió ni morir tu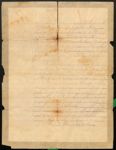 tío Juan y ahora me dicen los hijos de tu tío Juan que haga un papel en el juzgado para que [?] se defienda tu tío Juan en caso de que [?] reclame dicho terrenito, pero yo no muevo nada de eso del terreno hasta que tú vengas
[?] tú ya sabras si selos dejas o lo reclamas, te repito que no te olvides de mí, que yo siempre, a cada paso y á cada hora te estoy encomendando a Dios.
Recibe cariñosos recuerdos de Teodosio y te recomienda que le digas como esta el pase para [?] porque el aquí no está agusto y á la vez dice que le mandes dinero para su viaje. Cariñosos recuerdos de Clemente y muchos abrazos, hermano ahora sí me quedé solo sin mas protección que la tuya pues ya no tengo mas padre más de tú, sit u te olvidas de mí sere perdido porque ya tu vez que yo no puedo trabajar para mi mantención por estar muy chico sí tú y mi mamá [?] de mi sabe dios que sera de mí porque ya vezque Teodosio no me quere. Rcebe saludes y un abrazo de tu mamá.
Rafaela Arroyo Vda. De Torres
Translation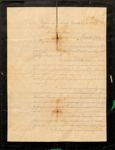 Ecuandureo, Michoacan. August 21, 1919.

Mister Maximino Torres Knobles, Oklahoma

My beloved son,
I have in my hands your letter dated August 3rd of this year, which pleased me greatly and I acknowledge its receipt.
I inform you that your father passed away and since you tell me that you are very discontent because of the discontentment between me and him, I hope you are now content and as you can see with what has happened I have no one else to care about me but you.
I inform you also that I am very worried because Teodosio cannot go to Pasímaro anymore because people in uncle Juan's house are saying that even though your father is dead there is still Teodosio, and that they will take their revenge on him.
Tell me what I should do about this worry because it's easy to understand that they say that so that I don't make a move regarding the small piece of land.
Your uncle Juan didn't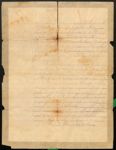 see your father die, and now your uncle's children are asking me to write a document in court so that your uncle Juan can defend himself in case that [?] claims said land, but I won't make a move about that land until you come [?] you will know if you leave it to them or you claim it, I just ask you again not to forget me, because I always, at every step and every day am entrusting you to God.
Receive warm greetings from Teodosio, who asks that you tell him how is the crossing to [?] because he is not happy here, and he also asks that you send him money for his trip.
Warm greetings from Clemente, and many hugs, brother, now I am alone without more protection than yours because now I have no father but you, and if you forget me I will be lost because as you can see, I cannot work to support myself because I am very young and if you and my mom [?] me, God knows what will become of me because you know that Teodosio doesn't like me. Receive regards and a hug from your mom.
Rafaela Arroyo widow of Torres.