Original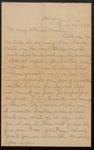 Albuquerque N. Mex.

July 31, 1937.

Mi muy estimada Comadre,
Esta es en contesta de su muy bien benida carta en la cual tuve mucho gusto al saber de usted y los muchachos.
Esta al despedirse de nosotros nos deja todos buenos Gracias a Dios.
Pues yo estaba muy sentida y muy apenada que porque estaba usted nojada que no mi dijo ni cuando se fue. Yo supe por la jente. Y Don Faustin me manda a disir con la Lionor otro dia que lo incontro. Nosotros a don Faustin no lo emos visto yo le dijo a Ed. que si no le toca verlo y me dise que no. Pues yo tengo mucho gusto que se incuentren con salud por aya.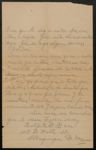 Pero que le dio a usted pa irse tan lejos. Que esta asiend usted aya que se ayo algun (wiso)
Ha; Ha;
Como iso con sus cosas yo no e sabido mas de que la tiene aventada su casa. Pues a la fina an ido 2 veses a la casa y no la ayan nunca.
Pues yo pienso que es todo por esta ves Saludes a la Santos por Nori y a Jesus por Junior. Y de nosotros resciban los mas finos recuerdos todos. Y digame cuando vienen.
Sin mas su comadre que le desea Felecidadez,

Felipita N. Baca.

1018 N. Walter St. Albuqurque N. Mex.
Mrs. Jesusita Baros 2115 Arapaho St. Denver Colorado
ALBUQUERQUE
Aug 2
3 PM
1937
N. MEX.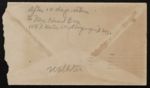 After 10 days return to Mrs. Eduard Baca 1018 N. Walter St. Albuquerque N. Mex Walhter

Translation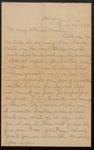 Albuquerque, New Mexico

July 31, 1937

My highly esteemed Comadre,
This letter is in reply to your very welcome letter in which I was happy to hear from you and the kids.
This letter leaves us well, thank God.
Well, I was very offended and very embarrassed because I thought that you were so angry that you didn't even say goodbye when you left. I found out through other people. And Mr. Faustin sent word to me through Leonor when he saw her the other day. We haven't seen Mr. Faustin, and I ask Ed if he doesn't see him anymore, and he tells me he doesn't. Well, I'm very happy that you are well over there.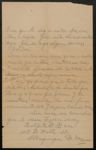 But what got into you to go so far away? What are you doing there? Did you find someone boyfriend suitor (wiso)
Ha, Ha.
What did you do with your things? I've heard no more about your house than that you left it abandoned rented. They've gone twice over to Fina's and haven't found her.
Well, I think this is all for now. Give regards to Santos from Nori, and to Jesus from Junior. And from us, receive all of you the finest regards. And tell me when you're coming.
Without further ado, your comadre who wishes you happiness,

Felipita N. Baca.

1018 N. Walter St. Albuquerque New Mexico