Original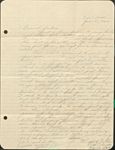 Erie Colorado

Jan. 6, 1942

Dearest Santo's
Just[?] a few lines to say hello and when this letter reaches your hands I hope it will find yow in the best of health, as this leaves me just fine, except for a harmless cold.
Well kid I promised to write to you soon, well here it is, although I dont know exactly what to write
Say kid if yow go to work some where dont forget to write to me&give me your new address, but just the same dont forget to answer any of my letters. Gee did I wish you could come and visit me some time?
Did yow finally go to the show on Sunday? I didnt see you but I thought I saw Lupe I wasn't sure though and Saturday night I was over in Lupton too and I saw your brother&some other guy's, I was just going in the house when I saw him pass up by Amedy's house& I stay
By the way tell yow mother hello&Lupe&Jennie if yow get to see them and I know yow will see your mother Ha! Ha!
Well I better close I'm making rather a newspaper than a letter well so Long and answer soon Love

Tammy Autobus

Erie Colorado Box 174 R #1
P.S. and I do mean answer soon
Hmmmm
Return to Tomasita Autobus

Box 154 R. # I[?]

Erie Colorado
Miss Santos Barros Fort Lupton Colorado
ERIE.
JAN 6
2 –PM
1942
COLO.

Translation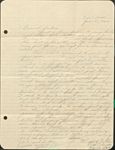 Erie Colorado

6 de enero de 1942

Querida Santos
Sólo unas líneas para saludarte y espero que cuando ésta llegue a tus manos te encuentre con buena salud, que ésta me deja bien, excepto por un resfriado sin importancia.
Bueno chica, te prometí que te iba a escribir y aquí está, aunque no sé exactamente qué escribir
Oye chica, si vas a trabajar a alguna parte no te olvides de escribirme y de darme tu nueva dirección, igual no te olvides de responder mis cartas. Cielos, como me gustaría que pudieras venir a visitarme alguna vez?
¿Al fin fuiste al espectáculo función película el domingo? No te vi, pero creí haber visto a Lupe, pero no estuve segura, y el sábado también estuve en Lupton y vi a tu hermano y a otros muchachos cuando iba entrando a la casa y lo vi pasar por la casa de Amedy y quedarse.
Por cierto, salúdame a tu mamá y a Lupe y a Jennie si las ves, y a tu máma ya sé que la vas a ver, jaja.
Bueno, más vale que termine porque estoy escribiendo un periódico más que una carta. Hasta luego y responde pronto. Con cariño

Tammy Autobus

Erie Colorado Box 174 R #1
P.D. y de veras, responde pronto.
Hmmmm