Original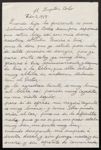 ft. Lupton colo

Febre 2, 1959

Querida hija
la precente es para saludarlos á todos siempre esperando que esten bien así son mis deseos; nosotros estamos bíen Gracias á Díos;
pues te dire que yo estube poco mala, de alta precion de sangre; pero ya para orita estoy muy bien; gracias á Díos; primeramente, y despues de Díos a la Helen, que ella estubo muy altiva en andarme llebando con el Doctor;
yo le agradesco tanto, es muy buena al berla así; parese tan cayadita; no me visita segido; pero sí se ofrese un negocío urgente es muy buena; y como ella puede aríar el car; pues no se le díficulta nada; pues yo no se que me paso estaba muy bien, me sentía muy bien; cuando derepente; me empese á sentir devel, y sín fuerza nada; y sin sueño; y sín apetito de comer nada;
y bino la cathy, y le dije que me sentía poco mala; y fue y le díjo á la Helen; y me llevo al Doctor, y tanta níeve que á abido que mucho frío; pues ní quería ír, pero ella me dijo; bamos con el Doctor aber que tiene;
pues ya dijo que tenía 2,20 de alta ya me dío chatas y pildoras; gracias Díos que para oy dijo que tenía 150, que eso sí era normal para mí edad, me dijo que fuera cada semana á darme chats; ya hora estoy bíen;
y tambien te platicare que la Greece y el Roy y otros 2 se requearon la Greece se iso y una cortada en la frente, y el Roy no el nomas se golpío un brazo, y el pecho; pero no mucho á la semana ya fue á trabajar; dise jessee que estaba muy asustado, temblaba en cada un cuando; pero ya estan bien;
tengo gusto hija que estes bien y que el Bill sea bueno con tigo
gracías á Díos que te allude; el es muy buen hombre;
bueno híja, no te tardes mucho en escríbirme siempre yo estoy con pena de ti;
muchos recuerdos al Bill, y á todos los muchachos, dales mís recuerdos que se acuerden de nosotros; que nos quieran enseña al Billy que le escriba al jerry, se impongan a introdusirsi; pues hora para día 12, de Febrero, es día de su santo de la Helen mandale anque una Birthday cart; bueno hija pues yo creo que esto sera todo;
muchos recuerdos de max. y jessee y Helen y los muchahcos; y tu mama un fino recuerdo
Jesusita B. Torres;
Pacific st colo; Lupton
Mrs, W.F. Schubert 1016. South 40th st; Lincoln 10, nebr.
FORT LUPTON
FEB 2
430 PM
1959
COLO.

Translation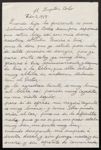 Ft. Lupton, Colorado

February 2, 1959

Dear daughter,
This letter is to greet you all, hoping as always that you are all well, as are my wishes. We are well, thank God.
Well, I will tell you that I was a little ill, with high blood pressure but now I'm very well thank God. First thanks be to God and then to Helen, who was very active in taking me to the doctor.
I appreciate her so much. When you see her like that, she seems so quiet, doesn't visit me often, but if there is something urgent she is very good, and because she knows how to drive the car, nothing stops her. Well, I don't know what happened to me. I was feeling very well, and then suddenly I started to feel weak, without strength, sleepless, without desire to eat anything.
and Cathy came and I told her that I was feeling a little ill, and she told Helen and she took me to the doctor. We've had so much snow that it was very cold and I didn't want to go, but she told me let's go to the doctor to find out what's wring with you.
Well, he said I had my blood pressure was 220, which was high, and he gave me shots and pills. Thank God, today he told me that I had my blood pressure was150, and that that was normal for my age. He told me to go each week so he could give me the shots. Now I'm well.
I will also tell you that Greece and Roy and another two people were in a wreck. Greece cut her forehead and Roy didn't, he was only hurt in his arm and his chest, but not a lot. After a week he went back to work. Jesse says that he was very scared, that he shuddered every once in a while.
I am happy, daughter, that you are well, and that Bill is good with you
thank God, may he help you. He is a good man.
Well, daughter, don't take too long to reply. I am always worried about you.
Many regards Much love to Bill, and all the kids. Give them Our regards Our love, so they may remember us, so that they may love us feel affection for us. Teach Billy to write to Jerry, so that they become used to introduce each other know contact each other. On February 12 it's Helen's saint's day birthday. Send her even if only a birthday card. Well, daughter, I think that this will be all.
Warm regards from Max and Jesse and Helen and the kids. And from your mother finest regards much love
Jesusita B. Torres;