Original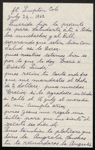 ft. Lupton Colo

july 26,- 1962

Querida hija,
la precente es para Saludarte, á tí, á todos los muchachos, y al Bill; esperando que esten bien con Salud asi lo Deceo; pues nosotros estamos bien es por lo que le doy Gracía á Díosito Lindo;
pues reciví tu carta onde beo[?] que me mandastes el cheke de 2, dollars; pues muchas Gracías; sí lo agradesco en Verda si callo el 15, july el mero día de mí cumple años; pues jesus me regalo una silla; para que me siente en el zacate eso díse el;
buno tambíen te platicare que bino la Augrelia Sanchas tu te recuerdaras la Augrelia
2 de Albuquerque n. mex. pues haora vive en Albuquer en Denver, la Pancha tu te acordaras; á quelle chiquita que cuando nos benimos tenía como 2, años, pero haora lla esta muy grande muy bonita; dise que trabaja de enfermera por el Govierno; aqui esta en Denver, vino me vesíto un Domingo ya esta muy vieja la Pobre; pues así como yo, ya estamos muy víejas; pues recívi mucho gusto yo; ella me abraso, y lloramos; bueno me díjo que tenía muchas ganas de berte conoser tus muchachos; y tu esposo;
bueno pues hora que vengas díjo que fueramos á pasiarnos á su casa, quiza estara rentando
3
bueno tambíen te platicare que se empesaron las piscas de fríjol, hora este día 26; pues al fín cuan pienas en venír me avísas tan siquiera una semana antes; tu saves para saver alistar algo,
bueno pues pues yo pienso que esto sera todo por esta ves muchos recuerdos para Bill, y los muchachos, tanto del jessee, y famílía y del max y de mi tu mamá que mejor deceo berte que escrívírte tu mamá
Dios te Bendía higa son los deceos de tu mamá
jesusita B. Torres;
[?]

14 Pacific ave.

[?]

t. Lupton Colo
Mrs. W. F. Schubert 1016. South 40th st; Lincoln 10. nebraska
FORT LUPTON
JUL 26
3 M
1962
COLO

Translation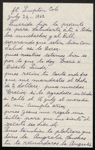 Ft. Lupton, Colorado

July 26, 1962

Dear daughter,
this letter is to greet you, and all the kids and Bill, hoping that you are well, as are my wishes. Well, we are well, for which I thank my loving God.
Well, I got your letter in which I read that you sent me a check for two dollars. Thank you, I truly appreciate it. It arrived on July 15th , right on my birthday. Well, Jesús gave me a chair, so that I can sit on the lawn, or so he says.
Well, I will also tell you that Aurelia Sánchez came to visit. You will remember Aurelia
2 from Albuquerque, New Mexico. Well now she lives in Denver. Pancha, you will remember, that little girl that was about two when we came here is now very big and very pretty. She says that she works as a nurse for the government. She's here in Denver and came for a visit on a Sunday. She's quite old, the poor woman, just like me. We are both very old. Well, it made me very happy. She hugged me and we cried. Well, she told me that she's eager to see you, to meet your kids and your husband.
She told me that now that you're coming when you come we should go for a visit to her home, she may be renting
3
Well, I will also tell you that the bean harvest has started, now on the 26th. In the end, when are you thinking of coming? Let me know at least a week before. You, know, to get things ready.
Well, I think this will be all for now. Many regards Much love for Bill and the kids from Jesse and his family, and from Max and from me, your mother, who would much rather see you than write to you
God bless you, daughter, these are the wishes of your mom,
Jesusita B. Torres