Original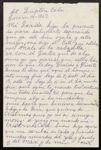 ft Lupton Colo

Decem 14, –1967.

mí querida hija
la precente es para saludarte, esperando que ya este bíen ojalá, y estes mejor;
me dijo el Bill que estabas poco mala de la rabadilla; ve con el Doctor que te de algo pues yo ya parese que estoy bíen por lo que le doy Gracías á Díosíto
bueno te díre que aquí el tiempo — esta muy frío bajo de 0; desde el día 12, asta oy bajo de 0; en el día, mucho frío, pero aquí te mando tus Cristmas como Todos los años $20, para que les compres algo á los muchachos; pues haora que biníeron los muchachos le dije á la Pam; que quíeres de - cristmas pues yo no se; es mejor mony; el jerry me mando una — cristmas card;
bueno hija espero que me escríbas en cada y cuando muchos recuerdos del jess y famly y del max y de mí — over
recíve el mas fíno recuerdo de tu mamá que te deceo mill felicidadez.
Jesusíta Torres.
814. Pacifc ave 80621. ft. Lupton Colo;
Translation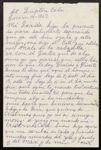 Ft. Lupton, Colorado

December 14, 1967.

My dear daughter,
This letter is to greet you, hoping that you are well, God willing, and that you are feeling better.
Bill told me that your lower back has been hurting. Go see the doctor so he can give you something. Well, it looks like I'm better, for which I thank God, who is good.
I will tell you that the weather here is very cold, below zero. Since the 12th until today it's been below zero during the day. But I'm sending you your Christmas here. Twenty dollars, like every year, $20, so that you can buy something for the kids. Now that the kids were here I asked Pam what she wanted for Christmas, but I don't know what to buy, the money is better. Jerry sent me a Christmas card.
Well daughter, I hope that you write me once in a while. Many regards much love from Jess and family, and from Max and me—over
Receive the finest regards from your mom who wishes you one thousand happinesses
Jesusíta Torres.
814. Pacifc ave 80621. ft. Lupton Colo;