Original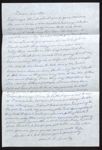 Dear Santos
I always think about you and your mama.
She sure was a nice neabr,&I always like her but now every body seems to be sick. I was very síck I broke my two legs. I felldown. I don't know why. No abía nada que trompesara. ni me atarante. pero quisas asi me toco, y hora I can't walk. They carry me on a wheel chair. I stay three months in the hosp. and had two Dr. So just think how much ít is going to cost me, because every thing ís so high. so Panch brought me over to her house to take care of me, I sure have nice sons in law, That's why I give Thanks to God, because they are very nice to me, the letters are sure taking time they say that there are two many letters&packages, it sure have been cold out here it use to be so nice&warm. but not any more,&at home they say it's worse, here in Tuson years ago it use to be that you dídn't know íf ít was winter, but now ít sure has change íts like any other place. I don't know when, I an goíng to be able to walk, my grandaughter, Teas dyoungest gírl they had To ofraid both yes she was getting blinde I wonder why. This every where,&just on the young girls,
well I guess This will be all for Today regards from Pancha,&I hope you get better, write when ever you can, your friend as ive with Love Goodluck&God Bless you&your family
Mrs A.B. Sanchez
6061 Est 4th St, Tucson, Ariz. 85711 Mrs. A.B. Sanchez
Mrs Santos Schubert 3830 C st. Lincoln Nebraska 68510
TUCSON, AZ 857
PM
17 DEC
1976

Translation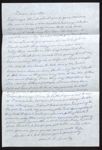 Querida Santos:
Siempre me acuerdo de ti y de tu mamá.
Era muy buena vecina y siempre me cayó bien, pero ahora todo mundo parece estar enfermo. Yo estuve muy mal porque me rompí las dos piernas. Me caí y no sé por qué. There wasn't anything to trip me, and I wasn't dizzy, but maybe that was my luck, and now no puedo caminar. Estuve tres meses en el hospital y me vieron dos doctores, así que imagínate lo que me va a costar, porque todo está muy caro. Así que Pancha me trajo a su casa para cuidarme. Tengo muy buenos yernos, por lo que doy gracias a Dios, porque me tratan muy bien. Las cartas se están tardando mucho. Dicen que es porque hay muchas cartas y muchos paquetes. Aquí ha hecho mucho frío. Antes el clima era muy bonito y templado, pero ya no. Y dicen que en casa el clima está peor. Aquí en Tucson, hace algunos años no se sabía si era invierno, pero ahora el clima ha cambiado y parece invierno; ha cambiado y es como en cualquier otro lugar. No sé cuándo podré caminar. Mi nieta Teas, la niña joven más chica tuvieron que temían de ambos ojos se estaba quedando ciega me pregunto por qué. Esto está pasando en todas partes y solo a las muchachas jóvenes niñas pequeñas.
Bueno, creo que será todo por hoy. Saludos de Pancha y espero que te alivies. Escribe cuando puedas. Tu amiga de siempre, con cariño
La Sra. A.B. Sánchez