Original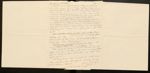 10 May 1948
My Darling Wife & Billy –
Didn't receive any mail here today as I looked for; but guess you were busy – Anyway I hope you are both well and ok – Dearest I miss you very much and will be so glad to be with you this coming weekend – Remember I love you greatly – there isn't much to write but wanted to let you know that I'm thinking of you and being good.
Today, I worked at the commissary but didn't do much. Was suppose to have physical training this afternoon from 3:30 to 4:30 as we haven't had any yet, and didn't again today. In the parade Saturday our Group won first place for the post.
The weather isn't so bad yet as it stays Cloudy all day – but I guess it really gets hot most of the time so I'm glad I came early for this training –
The Lt. where I work wants me to join the army and be assigned here but I told him I couldn't see it –
When I get to Denver I think I'll call the K.C. office and see if they will give me anymore money just as clerk or else I'll have to take both jobs again –
Darling I am ok so will be with you this weekend either Sat night or Sunday morning (as I told you before).
yours always
Bill
yo te amo mucho mucho
S/sgt Wm F. Schubert – 37486259 322nd T.C. Wing – Hq + Hq Sqdn Bergstrom, Air Force Base Austin, Texas
Mrs, Santos B. Schubert General Delivery Ft. Lupton Colorado
AUSTIN
MAY 11
6 PM
1948
TEX.

FORT LUPTON
MAY 12
6 PM
COLO.

AIRMAIL

Translation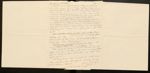 10 de mayo de 1948
Mis queridos esposa y Billy –
No recibí correo hoy como esperaba, creo que estabas ocupada – De todas formas, deseo que estén bien – Querida, te extraño mucho y me llenará de alegría estar contigo este fin de semana que viene– Recuerda que te amo mucho – no hay mucho que contar, pero quería decirte que estoy pensando en ti y que me estoy portando bien.
Hoy trabajé en el economato, pero no hice mucho. Supuestamente debíamos tener un entrenamiento físico de 3:30 a 4:30 de la tarde, porque no habíamos tenido, pero hoy tampoco lo tuvimos. Nuestro grupo gano el primer lugar por el poste en el desfile del sábado.
El clima no esta mal todavía porque está nublado todo el día – pero creo que hace mucho calor la mayor parte del tiempo, así que me alegra haber venido temprano para este entrenamiento –
El teniente de donde trabajo quiere que me enliste en el ejército y que me asignen aquí, pero le dije que no podía imaginármelo.
Creo que cuando llegue a Denver, voy a llamar a la oficina de KC Kansas City y ver si me pagan más solo como oficinista, o si no, tendré que tomar los dos trabajos otra vez –
Querida, estoy bien, así que estaré contigo el fin de semana. El sábado en la noche o domingo en la mañana (como te mencioné antes).
Siempre tuyo,
Bill
I love you very very much