Original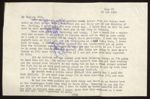 Camp 67

12 Oct 1950

My Darling Wife,
Sure was glad to receive another swell letter from you today; sure makes me feel better when I hear that you and Billy are OK and thinking of me. Darling, I am missing you more every day. I think that we will be done here by next week-end so will meet you on the 22nd in Lincoln.
Have sure been busy yesterday and today. I had a check for a waiter that was suppose to go to work in Lincoln Depot and he owed me some money so I took it into Lincoln but he wasn't there yesterday. I rode the train in; left here at 12:15 P.M. and got to Lincoln at 4:15 P.M.; then, I drove back to camp. I picked-up some clothes for the timekeeper; got my pants from the cleaners; moved everything into the new trailer, so all I have to do in scrub the Praire Schooner Sunday. The folks are going to Aunt Mary's Sunday so I'll have to be in Lincoln if I can get some good help together by then.
All my waiters and the second cook were drinking today; so I'm going to send them all in. One waiter left and haven't seen him yet this evening and the second cook couldn't do his work; but he has a steak dinner ordered for 7:30 for us at this good eating place so I'm trying to get my work done and a letter to you before I go. It's already 7;10P.M.
My checks were a little under $300.00 this month; but I paid the Bank $125.00. If you need some money let me know otherwise I'll not send any for you to have to carry home.
We had two more gandies get hurt today and there is no Doctor here so the timekeeper hasto take them to Falls City. Tomorrow is pay day for the men so we'll have more fun. I have to close my books tomorrow too as the 15th is Sunday; sure wish I could keep open this week-end as I know the men will want cigarettes to sell.
OVER
Darling, I'll write more tomorrow night; Remember I love you very much so write often.
Always yours
Bill
Love to you
& Billy

Translation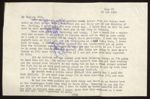 Campamento 67

12 de Octubre de 1950

Mi querida esposa,
De veras que me alegró recibir hoy una bonita carta tuya. De veras que me hace sentir mejor el enterarme de que tú y Billy están bien y que piensan en mí. Querida, te extraño más cada día. Creo que terminaremos el próximo fin de semana, así que te alcanzaré el día 22 en Lincoln.
De veras que he estado ocupado ayer y hoy. Tenía un cheque para un mesero que debía ir a trabajar en la estación de Lincoln y me debía algo de dinero así que lleve el cheque a Lincoln pero no estuvo ayer. Tomé en tren. Salí de aquí a las 12:15 PM y llegue a Lincoln a las 4:15 PM, y después maneje de regreso al campamento. Recogí una ropa para el cronometrador, recogí mis pantalones de la tintorería, moví todo al nuevo tráiler, así que lo único que tengo que hacer es restregar el Prairie Schooner el domingo. Mis papás van a ir a casa de la tía Mary el domingo, así que tendré que estar en Lincoln si puedo conseguir quien me ayude para entonces.
Todos los meseros y mi segundo cocinero estuvieron bebiendo hoy, así que los voy a regresar. Uno de los meseros se fue y todavía no lo he visto hoy en la noche, y el segundo cocinero no podía trabajar, pero ordenó una cena con carne para las 7:30 en un buen lugar para cenar, así que estoy tratando de acabar mi trabajo y una carta para ti antes de irme. Ya son las 7:10 PM.
Mis cheques me llegaron por poco menos de $300.00 este mes, pero pague $125.00 al banco. Si necesitas algo de dinero dime. Si no, no te mandaré nada para que no tengas que cargarlo de vuelta a casa.
Hoy se hirieron otros dos gandies y aquí no hay un doctor, así que el cronometrador los tiene que llevar hasta Falls City. Mañana es día de pago para los hombres, así que nos divertiremos más. También tengo que cerrar mi contabilidad mañana porque el 15 es domingo. Me hubiera gustado tenerla abierta este fin de semana porque que sé que van a querer cigarros para vender.
OTRO LADO
Querida, te escribiré más mañana en la noche. Recuerda que te amo mucho, así que escribe a menudo.
Siempre tuyo
Bill
Mi amor para ti y para Billy