Original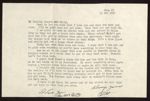 Camp 67

13 Oct 1950

My Darling Sandra and Billy,
Want to let you know that I love you and miss you more and more. I'll be glad when you get home. Hope that you are both OK.
I am going to take my second cook and one waiter to Falls City so they can get a train into Omaha. Their relief didn't get here but I'll get by without them over the week-end. Last night the second cook took me to dinner at Camp Rulo. It's a nice place and really put out a large steak dinner.
Today has sure been warm and nice. I hope that I can get out to pick some walnuts; so you'll have something to keep busy at.
Saw an ad in the paper that some outfit in Humbolt wants 50 trailer houses so I wrote them to see if they want mine. Humbolt isn't far from here.
I guess Jack found a house for him and his wife in Tenn. so he was lucky as it is furnished. He wrote something about maybe buying a trailer house this winter so maybe he will want ours.
I brought the instructions on the heater and thermostat for the trailer so I'll have to learn how to operate it. Also, want to try to get Billy's train set-up; probably won't get it done before you get home. The Foreman said today that we wouldn't finish here yet next week.
I have to go clean the ashes out of the stoves so will sign off and hope to hear from you soon.
Always Yours
Bill
I Love You
Santos&Billy

Translation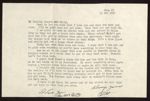 Campamento 67

13 de Octubre de 1950

Mis queridos Sandra y Billy:
Quiero decirles que los amo y los extraño más y más. Estaré feliz cuando regresen a casa. Espero que estén bien.
Voy a llevar a mi segundo cocinero y a un mesero a Falls City para que tomen el tren a Omaha. Sus reemplazos no llegaron, pero me las arreglaré sin ellos durante el fin de semana. Anoche, el segundo cocinero me llevó a cenar al campamento de Rulo. Es un lugar bonito y sirvieron una cena abundante con carne.
Hoy ha estado muy bonito y templado. Espero ir a pizcar algunas nueces para que tengas algo que te mantenga ocupada.
Vi un anuncio en el periódico que dice una empresa en Humboldt quiere 50 tráileres, así que les escribí para ver si quieren el mío. Humboldt no está lejos de aquí.
Creo que Jack encontró una casa para él y su esposa en Tennessee. Tuvo suerte, porque está amueblada. Me escribió que quizá va a comprar un tráiler este invierno, así que quizá querrá el nuestro.
Traje las instrucciones del calefactor y del termostato para el tráiler, así que tendré que aprender como operarlo. Además quiero tratar de instalar el tren de Billy, aunque quizá no lo voy a alcanzar a terminar antes de que lleguen a casa. Hoy me dijo el capataz que todavía no vamos a terminar aquí la próxima semana.
Tengo que ir a limpiar las cenizas de las estufas, así que me despido y espero recibir noticias tuyas dentro de poco.
Siempre tuyo
Bill
Los amo Santos y Billy