Original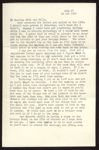 Camp 67

October 16, 1950

My Darling Wife and Billy
Just received the letter you mailed on the 13th; I should have gotten it Saturday; don't know why I didn't. Anyway I could have got yourPostal Savings while I was in Lincoln yesterday; if I would have known about it. I guess that it would be alright to go ahead and buy the lots if they are still there by the time I get to Lincoln to get your Savings Notes. The notes are in the deposit box at the bank so I'll have to be there during the daytime so I can get them. Probably could drive up some morning and come back on the train.
I may get my notice from the Army. Jack got a registered letter again Saturday and I figure that it was suppose to be for me and somebody just got a hold of the wrong envelope; as it don't seem that they would be sending him something after he has been on Active Duty a month now. So if that is the case they will send it back to me in a couple of days, I guess. If I do hear, I'll call you or wire. It wouldn't hurt I guess for you to cash some of your savings even if we didn't buy the lots so I'll send them anyway.
Yesterday morning I got up at 4:00 A.M. and got an early start to Lincoln. I did the washing as soon as I got there then straightened up the trailer some. I washed the floor but didn't get it waxed so you'll have that to do later. We have a lot of room so can get some of the things out of the lockers in the basement and take them too. Mom gave Ruth Ann some of Helen's old clothes and she was real glad to get them; so maybe she would want some of the things that are too small for you. Didn't have anyone to look at the trailer; but I'ld just as soon rent it out as to sell it anyway. We could just park it in a trailer camp and rent it if I do go to the Army.
Our Reserve outfit is having a dance in the Lincoln Hotel on the 27th of October so I hope that we can go. I have some typing to do to earn points so don't have to attend the meetings too often, now.
- 2 -
I have a lot of work to do so better get busy I'll write you more soon. Hope to see you this Sunday. I miss you and Billy very much. Will be glad when you're here with me.
Always yours
Bill
All my love to you both
I am sending a key but am not sure if it fits your suitcase -
Translation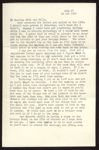 Campamento 67

16 de October de 1950

Mis queridos esposa y Billy:
Acabo de recibir la carta que tu mandaste el día 13. Debería haberla recibido el sábado, no sé por qué no llegó. En todo caso, si lo hubiera sabido podría haber sacado tus ahorros de la oficina de correos ayer que estuve en Lincoln. Creo que estaría bien comprar los lotes si todavía están disponibles para cuando llegue a Lincoln y saque tus certificados de ahorro. Están en la caja de depósito del banco, así que tendré que ir durante el día para poderlos sacar. Probablemente podría ir en el carro alguna mañana y regresarme en el tren.
Quizá me llamen del ejército. A Jack le volvió a llegar un sobre registrado el sábado y me imagino que era para mí y que alguien más recibió el sobre equivocado, porque no creo que le mandaran nada si ya lleva un mes en servicio activo. Así que si fuera ese el caso, me imagino que volverían a mandarlo en algunos días. Si me llaman te llamo o te mando un telegrama. Supongo que no estaría mal que sacaras algunos de tus ahorros aunque no compremos los lotes, así que te mando los certificados de todas maneras.
Ayer en la mañana me levanté a las 4:00 A.M. y salí temprano a Lincoln. Me puse a lavar en cuanto llegué y después arreglé un poco el tráiler. Lavé el piso pero no enceré, para que tengas algo que hacer después. Tenemos mucho espacio, así que también podemos sacar algunas cosas de los armarios del sótano y llevárnoslas. Mi mamá le dio a Ruth Ann alguna ropa vieja de Helen y la agradeció mucho. Es posible que también quiera alguna de la ropa que te queda pequeña. No vino nadie a ver el tráiler, pero prefiero rentarlo que venderlo. O podríamos estacionarlo en un campamento de tráilers y rentarlo si me voy al ejército.
Nuestro cuerpo de reserva va a dar un baile en el Hotel Lincoln el 27 de octubre, así que espero que podamos ir. Tengo algunas cosas pendientes que mecanografiar para ganar puntos, así que ahora no tengo que ir a las reuniones tan frecuentemente.
- 2 -
Tengo mucho trabajo, así que más vale que me ocupe. Espero verte este domingo. Los extraño mucho a ti y a Billy. Me alegraré mucho cuando estén aquí conmigo.
Siempre tuyo
Bill
Todo mi amor para ustedes dos
Te estoy mandando una llave, pero no estoy seguro de si abre tu maleta o no.