Original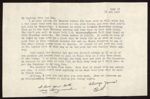 Camp 67

17 Oct 1950

My Darling Wife and Son,
I am done typing the Reserve roster for next week so will write you a few lines then take the letters to the noon train; and hope that you'll get this by Wednesday. I decided to drive to Lincoln Wednesday evening then go to the Bank Thursday morning and come back on that noon train. Why don't you call me about 9:00 P.M. Wednesday (about 8:00 your time) or else Thursday morning. The folks number is 2-1676. It would be nice if we could by some lots in a place that we could fix up so that we could park four or five trailers besides our own on. Maybe Brighton or one of the other little towns close to Denver. Of course if you want the lots in Ft. Lupton it's OK with me; as we park our two trailer there any-way.
Last night the Special Agt and the Sheriff picked up 11 or 12 of the gandies and hauled them to jail in Falls City so I only have about 50 men today. I am going through the bunk cars and pick up the blankets. Am suppose to get meat in this P.M. so will keep busy as I still have to get the Prestone in my car, too.
The weather is sure fine here. Hope that it stays this way awhile yet too. I still don't know anything about what this camp will do when we finish here.
Darling, I love you and miss you very much. Sure am lonesome so am reallylooking forward to seeing you Sunday night.
Always Yours
–Bill –
I love you both very very much
Translation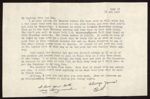 Campamento 67

17 de Octubre de 1950

Mis queridos esposa e hijo:
Terminé la lista de la Reserva para la próxima semana, así que te escribiré unas líneas y después llevaré las cartas al tren de mediodía, y espero que las recibas el miércoles. Decidí ir en carro a Lincoln el miércoles por la tarde e ir al banco el jueves por la mañana y regresar en el tren de mediodía. ¿Por qué no me llamas el miércoles alrededor de las 9:00 P.M. (como las 8:00 P.M. de tu hora) o el jueves en la mañana? El número de mis papás es el 2-1676. Sería que pudiéramos comprar unos lotes en algún lugar que pudiéramos arreglar para poder estacionar otros cuatro o cinco tráileres junto al nuestro. Quizá en Brighton o alguno de los otros pueblitos cercanos a Denver. Por supuesto que si quieres los lotes en Ft. Lupton para mí está bien, porque de todas formas estacionamos ahí nuestros dos tráilers.
Anoche el agente especial y el alguacil recogieron a 11 o 12 de los gandies y se los llevaron a la cárcel de Falls City, así que hoy solamente tengo unos 50 hombres. Estoy revisando todos los coches litera y recogiendo las cobijas. Se supone que voy a recibir la carne hoy en la tarde, así que voy a estar ocupado porque también tengo que ponerle el Prestone al carro.
El clima está bien. Espero que se mantenga así por un rato. Todavía no sé qué va a pasar con este campamento cuando terminemos aquí.
Querida, te amo y te extraño mucho. Me siento verdaderamente solo y estoy feliz de poder verte este domingo por la noche.
Siempre tuyo
Bill
Los quiero mucho mucho