Original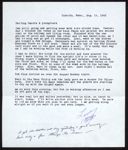 Lincoln, Nebr. , Aug. 19, 1962

Darling Sandra & youngsters
Iam still going and getting some work done around home. Yesterday I trimmed the roses on the back fence and painted the second coat on the hallway and living room. Finished with the one gallon of paint and opened the other and it was water-like; so I had to stop and go get it exchanged. Also, went to the stores and bought a few things. Beechners had special on various frozen Mexican foods so I got some. Baked and ate one of the 39¢ dinners last night and it was good and made a meal. It's handy that way as I can be working while the food is warming up.
I had to drill the holes for the mirror and then plaster the ones I made trying to find the upright 2/4's to screw it to. Friday night I sprayed the back yard and watered, then watered the front and side; so today I'll spray for the web worms on the side and front. Will do some of the wood work in the hallway today. Also, want to clean up my car. Last night I washed all of the bathroom walls, floor, etc.
Bob Rice invited me over for supper Monday night.
Went to the Bank Friday and the lady gave me a sucker for Elizabeth. Don't have too many tomatoes and the plants are starting to dry up with the blight again.
Am at work this morning; but Bob is working afternoon so I can be off part of the day.
It was real hot and sultry yesterday; but is nice, at least to start, today. I'll write another note later this week. Be sure to let me know when you plan to get here. I am getting along alright so if you want to you can stay longer.
Love
Bill
I got the clothes all dry yesterday & put away have only a few things to iron.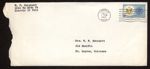 W. F. Schubert 1016 So 40th St Lincoln 10 Nebr
Mrs. W. F. Schubert 814 Pacific Ft. Lupton, Colorado
Lincoln
Aug 22
1:30PM
1962
NEBR.

Translation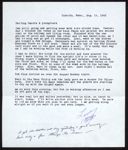 Lincoln, Nebraska, 19 de agosto de 1962

Querida Sandra y muchachos:
Todavía estoy trabajando un poco en la casa. Ayer podé las rosas de la cerca de atrás y le puse la segunda capa de pintura al pasillo y a la sala. Me acabé un galón de pintura y abrí el otro, pero estaba aguado, así que tuve que ir a cambiarlo. También fui a la tienda y compré algunas cosas. Beechners tenía una especial en varias comidas mexicanas congeladas, así que compre algunas. Anoche metí al horno y me comí una de las cenas de 39¢. Estaba buena, y fue una cena completa. Es práctico, porque puedo estar trabajando mientras la comida se calienta. Tuve que hacer agujeros para poner el espejo y luego tuve que enyesar que hice tratando de las vigas verticales para fijarlo.
El viernes por la noche puse insecticida y regué el frente y el lado de la casa, así que hoy pondré insecticida contra gusanos Hyphantria cunea en el lado y en el frente. Hoy voy a trabajar un rato en la madera del pasillo.También, quiero limpiar el carro. Anoche lave toda las paredes del baño, el piso etc.
Bob Rice me invito a cenar el lunes en la noche.
Fui al banco el viernes y la señora me dio una paleta para Elizabeth. No hay muchos tomates y las plantas están comenzando en secarse otra vez con la plaga.
Esta mañana estoy en el trabajo, pero Bob trabaja en la tarde, así que podré descansar parte del día.
Ayer estuvo muy caliente y sofocante, pero hoy el día está muy bonito, por lo menos ahora que apenas va empezando. Volveré a escribirte esta semana. Asegúrate de avisarme cuándo estás planeando llegar. Yo estoy bien, así que puedes quedarte más tiempo, si quieres.
Con amor,
Bill
Ayer sequé y guardé toda la ropa. Solo me quedan algunas cosas por planchar.