Original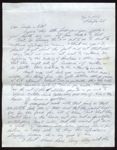 Jan 2, 1976

Ft Lupton Colo

Dear Sandra&Bill
hoping This letter finds you&your family in good health.
We are all fine, thanks be to God.
First, I'm returning the $10.00 sent to me to send to mother's relatives in Mexico. I think me, you&I, should forget about the past and not start something that we would not want to continue, I'm referring to the sending of donations&other requests that they might ask of because of mother&so forth, their relation to her&thus to us also.
about max, Well, don't you worry about max's welfare he's doing fine, he gets between old age pension&R.R. retirement about $200.00 per month. Plus the rents of the houses in back of $160.00 per month. this expenses are the cost of the utilities plus $30.00 per week to Gloría Botello. which takes very good care of him&the house. the house is spotless.
The arrangement made with that family is that Mrs. Botello take care of max, and that they would buy&pay for the food for all of them, but that they could live in the house, not pay rent or for utilities or telephone, local calls. and she would get $30.00 a week. of course, I've been giving her a few dollars on the side to keep her interested in staying, because she is very good to him.
I don't know how long they will stay.
2 I hope its at least until Max has no need for them. But we'll see, Mr Botello is working in the Kitayama flower nursery.
yes, Mrs Baca&Fred were over to see us this last summer, it was really a surprised. they really came out to see some people in Golden and were passing thro to Albuquerque, they stayed about 3 – 4 hours, they went on to Albuquerque.
Mrs Baca first went to max's house and ask if this was the house where max Torres lived, the lady said yes and were invited in max asked them who she was, when she told him she was mrs Felipita Baca, he tried to stand up to greet her and almost fell, but Fred caught him.
I never knew how much max loved mother and how much he still thinks about her, even now, when we sometimes talk about mother, he starts to cry. One never knows. They use to fight&argue sometimes, something terrible, but underneath was a great love for each others.
the night before mother died, we had a talk about max, she told me if she ever passed away before max. to take care of him. she was concerned that maybe I would forget about him, being that he was not our real father.
I assured her not to worry, that max would be alright.
3 And he is alright but sometimes I really get mad at him for some of the things he does, but then I have to remind myself that he is a frighten old, crippled man that does not understand that some of the things I do is really for his benefit.
Well, I didn't intended to write all these things in my letter to you, but I think I tried to explain to you, that max is fine, is taken care of, and not to worry, now my concern is, take care of yourself, your back&eyesight.
Do not over exert yourself&have regular check ups in the eyes. O.K.?
had a nice Xmas, spent Xmas Eve with Jerry&Laura. xmas day had dinner up mary's house, new years eve&day stayed home and watched the foot ball games.
Love to you all
Jess&Helen&Mark
Translation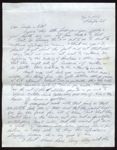 2 de enero de 1976

Fort Lupton, Colorado

Queridos Sandra y Bill,
Espero que a la recepción de esta carta tú y tu familia se encuentren con buena salud.
Nosotros estamos bien, gracias a Dios.
Primero, te estoy regresando los 10 dólares que me enviaron para mandar a los parientes de mamá en México. Creo que, tú y yo, deberíamos olvidarnos del pasado y no empezar algo que no vamos a querer continuar. Me estoy refiriendo a mandar donaciones y otras solicitudes que ellos nos pueden pedir por causa de mamá y demás, su relación con ella y, por tanto, también con nosotros.
Sobre Max, no te preocupes sobre el bienestar de Max ya que él está bien. Entre la pensión y la jubilación del ferrocarril, él obtiene alrededor de $200 por mes, más las rentas de las casas de atrás recibe $160 por mes. Estos son los gastos de los servicios básicos más $30 a la semana para Gloria Botello, quien cuida muy bien de él y de la casa. La casa está impecable.
El arreglo hecho con esa familia es que la señora Botello cuide a Max y que ellos tendrán que comprar y pagar por la comida por todos ellos, pero que ellos podrán vivir en la casa sin pagar la renta o por los servicios públicos o el teléfono, las llamada locales y que ella recibirá $30 a la semana. Por supuesto, le he estado dando unos dólares extras para mantenerla interesada en quedarse porque ella es muy buena con él.
No sé por cuanto tiempo se quedarán.
2 Espero que sea, por lo menos, hasta cuando Max ya no los necesite. Pero veremos, el señor Botello esta trabajando en el vivero de plantas de Kitayama.
Sí, la señora Baca y Fred vinieron para vernos el verano pasado, fue realmente una sorpresa. En realidad, ellos estaban visitando a gente en Golden y estaban pasando para ir a Albuquerque, se quedaron por unas tres o cuatro horas y luego siguieron a Albuquerque.
La señora Baca primeramente fue a la casa de Max y preguntó si esta era la casa donde vivía Max Torres, la señora dijo que sí y fueron invitados adentro. Max les preguntó quién era ella y cuando ella le dijo que era la señora Felipita Baca, él trato de pararse a saludarla y casi se cayó pero Fred lo agarró.
Nunca supe cuánto Max amaba a mamá y cuanto él piensa en ella todavía, aún ahora. Cuando hablamos sobre mamá, a veces, él comienza a llorar. Uno nunca sabe. Ellos solían pelear y, a veces, discutían, algo horrible, pero detrás de todo eso había un gran amor mutuo.
La noche antes de que mamá muriera hablamos sobre Max. Ella me dijo que, si ella moría antes de Max, lo cuidara. Ella estaba preocupada de que a la mejor me olvidaría de él, ya que él no era nuestro verdadero padre.
Yo le aseguré que no se preocupara, que Max iba a estar bien.
3 Y él está bien pero a veces me enojo mucho con él por algunas de las cosas que él hace pero después me tengo que acordar que él es un hombre mayor asustado y incapacitado que no entiende que algunas de las cosas que yo hago son realmente por su bien.
Bueno, no era mi intención escribirte todas estas cosas en mi carta, pero creo que intenté explicarte que Max está bien, que está siendo cuidado y que no hay que preocuparse. Ahora mi preocupación es que te cuides, que cuides de tu espalda y tu vista.
No te esfuerces demasiado y hazte chequeos regulares para los ojos, ¿sí?
Tuve una buena Navidad, pase la Nochebuena con Jerry y Laura. Para Navidad, tuve cena en la casa de Mary. Para el día de Nochevieja y del Año Nuevo me quedé en la casa y miré los partidos del fútbol americano.
Los queremos a todos,
Jess, Helen y Mark