Original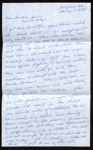 Fort Lupton Colo

February 11, 1978

Dear Sandra Jane Pam and Carly
I got here at 500/pm your time so did ok—drove about 55-60 except part way about 50—There was ice on the Highway not too bad to Grand Island but then to about North Platte there was ice—It wasn't all the way & didn't look icy but saw a semi truck off the highway & several autos then saw one auto go into the median & almost onto the east bound lanes—Then, Later saw in my rear view mirror an auto back of me go into the median —also an auto passed me & right afterwards it went in the ditch on north side of westbound lane There wasn't any sleet or snow coming down except a few places—No snow on ground in Colo. but there was light snow & shiffs blowing just a little on the road but not enough to get on windshield so was lucky—It is sleeting a little now here. I'll go see if this note
-2-
will go out tonight here—if not I'll drive to Brighton & eat &mail it.
Reyna's baby is in hospital so she wasn't home so I could get key so will stop about 800/pm. I am in big house for now. Had to start the stove—It's 20º here but should make it ok. I talked to Josephine don't think they are going to move as can't find a house—They would like to rent this if Chavez's move—someday—I believe we should get more for this big house but will have to see— I believe Calderon's would take good care of all the place if they could stay in back until Chavez's would move & then, [word crossed out] move in here—Mr. Calderon got a job at the alaskan camper place. They don't know of anyone to rent #2 (Reynas) house so may not get it rented but will go ahead & try to fix it up
Love to all
Bill-Dad pop Grandpa
Bill Schubert 814 Pacific Ave Fort Lupton Colo.
Mrs. Santos B Schubert & Jane 3830 C St Lincoln Nebr 68510
BRIGHTON, CO
FEB 12


[?]

PM
1978
806

Translation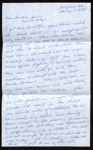 Fort Lupton Colo

11 de febrero de 1978

Queridas Sandra, Jane, Pam y Carly:
Llegué aquí como a las 5:00 de su hora, así que me fue bien –manejé como a 55-60, excepto en un tramo, como a 50 –Había hielo en la carretera. No estaba muy mal hasta Grand Island, pero luego hubo hielo hasta North Platte – No todo el camino, y no se veía el hielo, pero vi un camión que se salió de la carretera + varios carros y luego vi un caro que se subió a la mediana + y casi llega a los carriles que van hacia el este – Luego, más tarde, vi en el retrovisor que un carro que venía atrás de mí se subió a la mediana – también me pasó un carro + justo después cayó en la zanja en la parte norte del carril que va hacia el oeste No había hielo ni aguanieve, excepto en unos pocos lugares – Aquí En Colorado no hay nieve, pero nevó un poco + unos cuantos remolinos pequeños en la carretera, pero no suficientes para quedarse en el parabrisas, así que tuve suerte –Aquí está cayendo un poco de aguanieve en estos momentos. Voy a ver si esta nota
-2-
va a salir hoy en la noche desde aquí – si no, voy a ir hasta Brighton + comer + ponerla en el correo.
El bebé de Reyna está en el hospital así que no estaba en casa para que yo recogiera la llave así que voy a pasar como a las 8:00 pm. Por ahora estoy en la casa grande. Tuve que encender la estufa chimeneaEstamos como a 20 grados, pero creo que va a estar bien. Hablé con Josephine. No creo que se vayan a mudar porque no encuentran casa – Les gustaría rentar ésta si los Chávez se mudan –algún día – creo que podríamos cobrar más por esta casa tan grande pero tendremos que ver – Creo que los Calderón cuidarían muy bien de todo esto si se pudieran quedar en la parte de atrás hasta que los Chávez se mudaran + luego mudarse para acá – Al Sr. Calderón le dieron un trabajo en la Alaskan Camper. No conocen a nadie que quiera rentar la casa #2 (La casa de Reyna), así que es posible que no se rente, pero de todas formas la voy a tratar de arreglar
Con cariño para todos
Bill-Papá, papi, abuelito