Original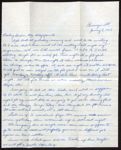 Berwyn Ill.

January 8, 1953

Darling Sandra, Billy, Bobby & Pamela.
I got back ok yesterday morning and went to the meeting at 3:00PM. Didn't have much at the meeting, Last night my supervisor told me I'll work from 10:30 PM to 7:30 AM starting tonight. It's a relief job. Two nights at a fit yard closer to Chicago; then two nights at their workhouses & fit houses in Chicago where the office is, and one night at another fit house would just as soon stayed in the fit yard I was in. I still get Monday &Tuesday off. Didn't have much doing last night. at the fit houses is where usually there's more theft, etc.
Am going to look at this trailer court which is suppose to be about a mile from here; also, have to get my laundry. Last night I got my overcoat dirty so am going to get some cleaning fluid and try cleaning it up today. One thing about the fit houses I'll wear suit and overcoat, it's a lot cleaner.
Looks as if it rained and froze this morning. Had some snow yesterday then warmed up a little last night. The company has a couple more new men suppose to go to work so that will probably give me a different job again in 2 or 3 weeks
Sure wish I had you and the trailer up here. Maybe we will get a break before long.
-2-
We are getting $2.00 a month less starting in January as the Government cost of living index is suppose to have gone down the wage contract is based on the index so if it goes up there's a raise, if it goes down there's a decrease.
Darling I miss you very much and love all of you very very much too. How are the kids' colds? Suppose Billy is wanting to wear his new overshoes & leggings. Not much to write as nothing goes on around here. I'll see you again Monday & Tuesday. Write me a note if you have time.
All my love
Bill
W. F. Schubert 3417 So Euclid Ave Berwyn, Ill.
Mrs. Santos B Schubert 2738 Pear St Lincoln 3 Nebraska
BERWYN, ILL.
JAN 8
1-PM
1953

Translation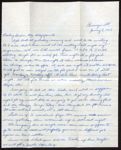 Berwyn, Illinois

8 de enero de 1953

Queridos Sandra, Billy, Bobby y Pamela
Regresé bien ayer en la mañana y fui a la reunión a las 3:00 pm. No pasó mucho en la reunión. Anoche mi supervisor me dijo que a partir de hoy voy a trabajar de las 10:30 PM a las 7:30 AM. Es un empleo de socorro. Dos noches en un fit yard más cerca de Chicago; luego dos noches en los asilos para pobres y [fit houses] en Chicago donde está la oficina y una noche en otro [fit house]. Habría preferido quedarme en el fit yard donde estaba. Todavía voy a descansar el lunes y el martes. No hubo mucho que hacer anoche. En las fit houses es donde usualmente hay más robos, etc.
Voy a ir a ver un parque de trailers que se supone que está a una milla de aquí. También tengo que ir a recoger mi ropa de la lavandería. Anoche se me ensució el abrigo así que hoy voy a conseguir líquido desmanchador para tratar de limpiarlo. Una cosa buena de las fit houses es que tendré que usar traje y abrigo, es mucho más limpio.
Parece que llovió y se congeló hoy en la mañana. Nevó un poco ayer y después subió un poco la temperatura por la noche. La empresa tiene un par de hombres más que van a empezar a trabajar, así que probablemente me darán un nuevo trabajo en unas dos o tres semanas.
Cómo me gustaría tenerte a ti y al tráiler ya aquí. Quizá nos irá mejor dentro de poco.
-2-
A partir de enero recibiremos $2.00 menos, porque se supone que bajó el índice del costo de la vida del gobierno, y el contrato salarial se basa en ese índice, así que si sube hay aumento y si baja hay reducción.
Querida, te extraño mucho y los amo mucho, mucho. Cómo van los resfriados de los niños? Me imagino que Billy ya quiere usar sus protectores de zapatos y sus medias de lana. No hay mucho qué escribir porque por aquí no pasa nada. Te veo de nuevo el lunes y el martes. Escríbeme una nota si tienes tiempo.
Todo mi amor,
Bill