Original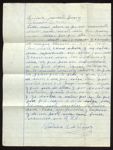 Señora Jesusita Barrz

Estimada Señora:
Pues mire ahora no puedo mandarte desir esacta mente asta que pasen unos dias, por que ella esta ahora enferma desde ase 8 meses y como de ningun chamaco se avía visto tan mala como ahora. y en estos dias esperamos su alivio o su merte como nos disen los Doctores y una vez que pase su enfermedad si es que sigue igual entonses yo le mando desir. y ahora le pido de fabor que le pida a dios que me alivie o sea que salga vien porque Ud save que tengo muchos hijos y que sera de ellos, y por favor me contestan pronto para saber de Ud: y yo darles a saber que es lo que pase que espero a dios salga vien
De mi parte muchos saludos para toda su familia y Esposo
y de mi parte mis más finos recuerdos su A. S. S.
Victoria A. de Torrez
Translation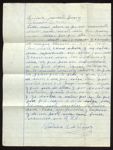 Mrs. Jesusita Baros

Dear Madam,
Well, I cannot send word exactly, until after a few days have gone by, because she is now ill, has been ill for the past eight months. With none of the other kids has she been as ill as she now is. We are now waiting for her delivery or her death, as the doctors have told us. Once her illness is gone, or if she remains the same, I will send word to you, and now I ask a favor from you, please pray to God to heal me, and that I may come out of this alright, because you know I have many children, and don't know what will become of them if I die. Please answer soon so that I can have news from you, and I can let you know what happens. Everything will be alright, God willing.
Receivefrom me, many regards for all your family and your husband.
And from me

receive

the finest regards
Your True and Steadfast Servant
Victoria A. de Torrez