Original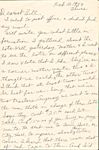 Oct. 12, 1950
Thurs.
Dearest Bill,
I went to post office & didn't find any mail.
Will write you what little information I gathered about the lots. Well, yesterday mother and I went to see the lots on different places. I saw 4 lots that I like. They're on a corner. Mother wants two & I thought we could buy the other two. I think that at least two would be best for us - being that we've two trailers. Anyway we went to see the man that's in charge of them lots. Says they cost $125.00 each lot - cash.And $150.00 if you buy on payments. He sent me to Town Hall or City Hall to inquire about them lots, cause I heard that there was alot of red tape to them. And I'd
have to go to Greeley to get the abstract to the lots. And I don't know if these lots are outside city limits or inside. About the sewer I don't know much - only that it costs $12.50 to tap. I think you pay that to the city. I was suppose to find out about these things this afternoon but I was too late at the City Hall, close at 3:PM I'll go again tomorrow morning. Oh yes, everybody says the lights won't amount too much.
Listen if you're thinking of us spending the Winter here you better not sell the old trailer. We can rent it. And if we buy these lots you can send me my postal notes from the bank. We can buy them with my money.
Billy caught a cold. He's helping mother bring in some wood. He also helped her chase the chickens into the chicken house. He likes Max better than mother.
This is all for this time.
I'll write again.
Don't forget we love U. And we're lonesome for you.
Faithfully yours,
Sandra
Fri. A.M.
Am at post office. Came to City Hall. Mr. Carlson told me there's no back taxes on them lots. It's inside city limits. There's a sewer there and it costs $12.50 to tap $20.00 for the water a year. To com hook up the pipes to the trailers, that costs extra. And he says that eventually you would have to build a
house there. And no trailers are allowed here unless they're hooked up to the sewer. I have to go to court house in Greeley to find out about the abstract. I think there's no red tape to them. Well, shall we buy them or not?
If we do you better send me my money that I've at the Post office in Denver. Billy is here with me. Have to go to Safeway's.
Be sure & answer soon & let me know what you think.
Lovingly yours,
Sandra
Translation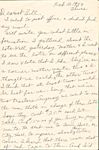 12 de octubre de 1950
Jueves.
Queridísimo Bill,
Fui al correo y no encontré carta.
Te escribo con la poca información que tengo sobre los lotes. Bueno, anoche mamá y yo fuimos a ver los lotes en lugares distintos. Vi cuatro lotes que me gustaron. Están en una esquina. Mamá quiere dos y pensé que nosotros podíamos comprar los otros dos. Creo que por lo menos dos sería lo mejor para nosotros, porque tenemos dos trailers. En fin, fuimos a ver al hombre que está a cargo de los lotes. Dice que cuestan $125.00 cada uno –al contado. Y $150.00 a plazos. Me mandó al ayuntamiento gobierno de la ciudada preguntar por ellos, porque oí que venían con mucho trámite burocrático, y que tendría que
ir a Greeley para pedir el título de propiedad de los lotes. Y no sé si esos lotes están dentro o fuera de los límites de la ciudad. No sé mucho acerca del drenaje –solo que cuesta $12.50 para conectarse. Creo que se le paga a la ciudad. Iba a averiguar todo eso hoy en la tarde, pero llegué tarde al ayunatamiento gobierno de la ciudad, cierra a las 3:00 pm. Iré ora vez mañana en la mañana. Ah sí, todo el mundo dice que la luz no sería muy cara.
Mira, si estás pensando que pasemos el invierno aquí mejor no vendas el tráiler viejo. Podríamos rentarlo. Y si compramos estos lotes puedes mandarme mis notas postales del banco. Podemos comprarlos con mi dinero.
Billy se resfrió. Le está ayudando a mamá a meter la leña. También le ayudó a corretear a las gallinas para meterlas al gallinero. Le cae mejor Max que mamá.
Esto es todo por hoy.
Volveré a escribirte.
No te olvides de que te queremos y te extrañamos mucho.
Fielmente tuya tu fiel esposa
Sandra
Viernes por la mañana
Vine al ayuntamiento gobierno de la ciudad. El señor Carlson me dijo que no se deben impuestos por esos lotes. Están dentro de los límites de la ciudad. Hay drenaje y cuesta $12.50 conectarse y $20.00 al año por el agua. Se paga extra por conectar la tubería hasta los trailers. Dice que eventualmente se tendría que construir ahí
una casa. Y que no se permiten trailers a menos de que estén conectados al drenaje. Necesito ir a la corte de Greeley para preguntar por el título. Creo que no hay problemas burocráticos con esos lotes. Bueno, ¿los compramos o no?
Si los vamos a comprar es mejor que me mandes mi dinero que está en la oficina de correos de Denver. Billy está aquí conmigo. Tengo que ir al Safeway
Responde pronto y dime qué opinas.
Amorosamente tuya,
Sandra