Original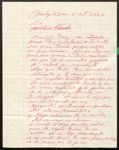 Juchipila Zac.
5 oct 1967
Sra. Martina Flemate
Jesusita Torrez mi estimada prima Doy contestación a tu carta un poco tarde porque estube un poco enferma pero ya estoy un poco bien gracias a. Dios. Espero en dios que tu te encuentres gozando de salud. en seguida te digo que Resibi con agrado tus estampitas y te digo que ví a mi compadre Demetrio y me dijo que te abía escrito muchas cartas y no le abías contestado y a gulia no la he visto porque ella esta en Guadalajara tambien te digo que no me confundas yo soy Margarita. mi hermana es martina ella esta en Mexicali B.C. y tengo intenciones de ir con ella tal ves vaya en este mes es cuanto te digo por hoy
saludes para tu Esposo Resiban los dos saludes de mi hijo Eduardo y tu de mi parte Resibe los mas finos saludos de tu prima que te quiere
y no te olvida adios
Margarita Flemate
Margarita Flemate Gonzalez Ortega #37 Juchipila, Zac.
Sra. Jesusita Torrez 814 Pacific ave 80621 Ft Lupton Colorado
[?]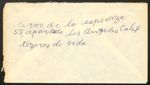 La vos de la esperaza
55, apartado los Angeles Calif
Tezoros de vída

Translation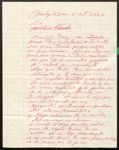 Juchipila Zac.

October 5, 1967

Mrs. Martina Flemate Jesusita Torrez my dear cousin,
I reply with some delay because I have been a little sick, but I am now a little better, thank God. I trust in God that you are enjoying good health. I next tell you that I was happy to receive your little stamps chromes pictures images and I tell you that I saw my compadre Demetrio and he told me that he had written several letters to you and that you hadn't replied, and I have not seen Gulia Julia because she is in Guadalajara. I also tell you ask you not to confuse me, I am Margarita. My sister is Martina. She is in Mexicali, B.C. Baja California and I am planning my intentions are to visit her go to her, and I may go this month. This is everything I'll tell you for now.
Give my regards to your husband. Receive kind regards for both of you from my son Eduardo, and

you

from me, receive the finest regards from your cousin who loves you
and does not forget you
Margarita Flemate