Original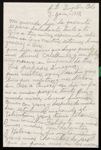 f.t. Lupton Colo

3,-jan,-1953

mi querida hija

la precente es para saludarte, tanto á ti Como á tus niños, esperanda esten bien así Como nosotros estamos buenos gracias á Dios.
pues hija, espero que hagas pasado unos buenos Cristhmas, y un feliz año nuevo; en Compania de tus Srs papases suegros;
pues nosotros, aqui; ese dia jesus bino por nosotros y nos llevo á su casa á Comer, ese dia no fui ní á misa porque tanto frío, y mucho nieve; bueno fuímos á Comer con jesus y despues de medio día estubimos mirando el televicion, jesus tiene televicíon y mi Comadre Felipita me mando unas medias, un delantar, y Helena me dío un Camison y jesus unas Chanclas de eses que se pone uno en las mañana
2
pues á Max le gustaron mucho sus panllamas que le mandaste y jesus le dio una Camisa; y á mi tambien me gusto mis dos camisones uno tu y otro Helena; el año pasado, Helena me dio una kimona, y otra tu pues ya tengo dos kimonas y dos Camisones; y la Betty haygada me mando un set de una azucarera, y un salero, y otro para echar la pímíenta; muy curiosos; estan bonitos;
bueno hija, ya hace dias que te quiero preguntar; que tal salieron los retratos, aquellos cuando venistes para,, que fuimos á Denver y nos retratamos en el City Parke; salieron vien, ó que pazo al fin; y dime Como estas, yo te soñe anoche que venías en Car tu sola toda greñuda, Con los ojos Colorados, como si ubieras acavado de llorar;
y en el sueño yo te able te dije, ¿pues que tienes Santos?
y tu me respondistes nada, nada, tengo. y te prugunte y el Babe,
Robert
y tu me dijestestes;
aya esta en Casa de la Sra. Schubert; y yo te dije ¿porque esta aya,? y tu me dijistes le estoy pagando, porque lo cuide. y te vía yo Como llorando; y te dije yo estas Como hínchada de la Cara, los ojos Colorados;
y entonces tu me respondiste de tanto que lloro en las noches; recorde desesperada pidiendole á la virjen que te ayude, te Cubra Con su santo manto. y que te quieran tus suegros; y que no te bayas tan lejos de mí;
poraya donde dises que esta el Bill; entre mas, mas; parece que se ban retirando. bueno platicame todo, Como as estado, y como te á ido Con tus niños, si el Bill, te escrive, y si te manda dinero; yo pienso mucho, bueno hija que Dios te ayude esos son mis deseos y cuando te veas apurada de algun modo dime pueda que yo te ayude en algo,
muchos recuerdos para Billy boy, y Robert y la baby, y tu recive los mas finos recuerdos de nosotros .
J. Helen, Max, y tu mamá J.B.T.
P.O. Box. 681. J. Baros f.t. Lupoton Colo.
Mrs Sandra B. Schubert 2738. Pear St. Lincoln 3 Ne
FORT LUPTON
JAN 5
4 PM
1953
COLO.

Translation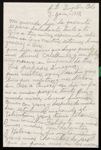 Ft. Lupton Colorado

3,-jan,-1953

My dear daughter

this letter is to greet you and your children, hoping you all are well, like we thank God..
Well daughter, I hope that you had a good Christmas, and a happy new year with your Your parents in laws;
We, here, Jesus came for us that day and brought us over to his house to eat. I didn't even go to mass that day because it was too cold, and there was a lot of snow. Well, we went to eat with Jesus and after noon we watched television. Jesus has a television and my comadre Felipita gave me some stockings, an apron, and Helen gave me a nightgown and Jesus some slippers of the kind you put on in the morning.
2
Betty sent me a set with a sugar bowl and a salt shaker, and another for the pepper; very cute; they're nice.
Well daughter, for several days I've been meaning to ask you how the pictures came out. The ones you took when you came and we went to Denver and we took our picture in the City Park; did they come out well or what happened in the end? And tell me how you are, I dreamt of you last night, that you came by car, by yourself, your hair all undone, red eyes as if you had been crying.
In the dream I talked to you, I told you, 'What's wrong with you, Santos?'
and you responded, 'Nothing, nothing's wrong', And I asked you, And the Babe, Robert?' And you told me,
'He's at Mrs. Schubert's' And I asked you, 'Why is he there?' And you told me, 'I'm paying her to take care of him'. And I saw you, you looked like you were crying and I told you, 'Your face looks swollen. Your eyes look red',
and you answered, 'It's because of all the crying I do', and I woke up desperate, asking the Virgin to help you, asking that she cover you with her holy mantle. And that you may be loved by your in-laws, and that you don't go further away from me
over there where you say Bill is. Further and further away it seems you all are going. Well, tell me everything. How you have been, how things are with your kids, if Bill writes to you, and if he sends you money; I think about things a lot I worry a lot. Well daughter, may God help you, those are my wishes. And when you have a problem of any kind tell me, and maybe I can help out somehow.
Much love Many regards for Bili boy, and Robert, and the baby and receive the finest warmest regards from us.
J. Helen, Max, and your mom, J.B.T