Original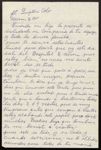 ft Lupton Colo

Novem, 8, 1967

Querída mi hija
la precente es saludarte en companía de tu espozo, y toda la demas familia;
pues te escrívo estas cuantas linias para desírte que oy este día salí del Hospital 8, novem pues estoy bíen, no mas me siento devel [second 'e' is written over] eso es todo, pero yo creo que poco á poco, me boy á sentir mejor, despues.
tambíen te díre que ya tengo como 3, días que comense esta carta, pero pues no la abía acabado pues é tenido mucha jente que á benido á besitarme todos los dias 3, ó 4, vesitas, pero es muy temprano antes que vengan á vesitar estoy acabando este papel para darte muchas Gracias hija que tambíen tu me beniste á vesitar;
pues esto es todo, y en cada y cuando escríveme; no te olbídes
recuerdos para todos de tu mamá

y max, jess y family;

814, Pacific ave ft Lupton Colo, Jesusita Torres
Mrs Santos Schubert 3830. "C" St; Lincoln, nebraska 68510
FORT LUPTON. CO
NOV 13
AM
1967
80221

Translation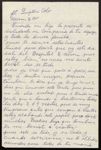 Ft.Lupton, Colorado

November 8, 1967

My dear daughter,
this letter is to greet you, your husband and all your family.
I write these few letters to let you know that I left the hospital today, November 8th. I am alright, only I feel weak, that is all. I think that little by little I will feel better later on.
I will also tell you that I started to write this letter about three days ago and I haven't finished it because a lot of people have come to visit. Three of four visits everyday. But now it's very early for visits, so I'm finishing this paper letter to thank you for coming to visit me, daughter.
This is all. Write to me once in a while, don't forget.
Regards love for all from your mom

and max, Jess and family.