Original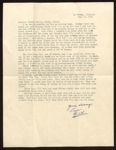 La Grange, Illinois

Aug. 25, 1954

Darling Sandra, Billy, Bobby, Pamela
I am really missing you but am keeping busy. Monday night the train got into Chicago about 9:15 P.M. so by the time I got home it was ten o'clock and then had to straighten things up and got to bed about eleven P.M.. Last night I planted some grass seed and took the linoleum off the porch and thought that I'ld paint it tonight but it rained again most of the day and just stopped about 15 minutes ago while I was taking a shower. It's 7:30 P.M. now and am .watching the Red Skelton show, forgot about the first part as I was showering. I wanted to paint the first coat and on the shower tonight but it is so damp out that I don't think that it would dry right. The rain washed some of the grass seed into bunches. It rained real hard yesterday about 11:30 A.M. and did quite a lot of damage.
The train was full out of Denver; but I was about the first one on, it was a reclining chair car so slept most of the night. In Omaha one of the men from our department got on so rode with me into Chicago and the time passed pretty good as we talked and read papers and magazines. I didn't do any work on my correspondence course though.
Guess tomorrow is payday so I'll go get my check and see maybe I can arrange to get off early Saturday, but I doubt it as I got off early last Saturday so probably will have to wait until Sunday to leave for Denver and get there Monday.
I called Aunt Ema Sunday night before I left Denver and talked to Laura then Ema. Laura said that she and her mother are moving pretty soon to their new home. They want us to come there before we come back. I guess Aunt Kyle is really is bad condition. They are anxious to see the kids, of course us too, but I guess the kids come first.
Think that I'll wait and wash Friday night; then will have most everything clean when I leave.
Darling Sandra, I don't have much news but do want you to know that I am thinking of you and the kids and love and miss you very much. Sure hope that you are getting along Ok without too much trouble from the kids. Tell them Hello and I'll see you all soon.
Yours always
Love

Bill
Translation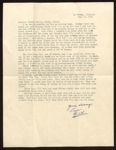 La Grange, Illinois

25 de agosto de 1954

Queridos Sandra, Billy, Bobby y Pamela:
Los estoy extrañando mucho, pero me mantengo ocupado. El tren llegó a Chicago el lunes en la noche alrededor, de las 9:15 P.M., así que cuando llegué a la casa ya eran las diez y luego tuve que arreglar un poco y me fui a dormir alrededor de las once. Anoche planté algunas semillas de grama y quité el linóleo del porche porque pensaba pintarlo hoy en la noche, volvió a llover casi todo el día y apenas paró hace como 15 minutos, mientras estaba en la ducha. Ahora son las 7:30 P.M. y estoy viendo el programa de Red Sketlon. Cuando me estaba duchando se me olvidó ver la primera parte. Quería poner la primera capa de pintura y en la ducha hoy en la noche, pero afuera está muy húmedo y no creo que se seque bien. La lluvia se llevó algo de la semilla en montones. Ayer llovió mucho alrededor de las 11:30 A.M. y causó mucho daño.
El tren venía lleno de Denver, pero como fui casi el primero en subir me tocó un asiento reclinable, así que pude dormir casi toda la noche. En Omaha se subió uno de los hombres de nuestro departamento, así que viajó conmigo hasta Chicago y pasamos el tiempo muy bien, platicando y leyendo periódicos y revistas. Pero no hice nada de mi curso por correspondencia.
Creo que mañana es día de pago, así que iré por mi cheque y veré si puedo salir temprano el sábado, pero lo dudo, porque el sábado pasado salí temprano, así que probablemente tendré que esperar hasta domingo para salir a Denver y llegar el lunes.
Llamé a la tía Ema el domingo en la noche antes de salir de Denver, y hablé con Laura y luego con Ema. Laura me dijo que ella y su mamá van a mudarse muy pronto a su nueva casa. Quieren que vayamos antes de que regresemos. Creo que la tía Kyle está muy mal. Están ansiosos por ver a los niños. A nosotros también, por supuesto, pero creo que a los niños primero.
Me parece que esperaré a lavar el viernes en la noche para tener casi todo limpio cuando me vaya.
Querida Sandra, no tengo muchas nuevas pero si quiero decirte que estoy pensando en ti y en los niños, y que los quiero y los extraño mucho. De veras espero que estés bien, y que los niños no te estén dando muchos problemas. Diles "Hola" y que los veré pronto.
Siempre tuyo.
Con amor

Bill