Original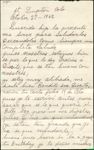 page 1

ft, Lupton Colo

October 27, - 1962
Querida hija la precente me sirve para saludarlos Deceandoles como siempre una completa salud;
pues nosotros estamos bíen es por lo que doy Gracias á Diosito; que es tan bueno con nosotros;
yo estoy muy alíbíada, me siento bien Bendito sea Diosito; recíví tu carta fecha 14, de Octo pues yo te escríví antes para saver que es lo que quería el Billy boy, pero no me díjístes. pues yo no se que mandarle ya estan tan grande que yo no se que mandarle;
bueno pues haora se ba á yegar tu Brithday, yo te deceo muchos
page 2.
dias de estos. que alcanses á conocer tus ñíetos, los hijos de tus nietos seas aguela; y tataraguela;
pues me preguntas de Max, pues ya no ay nada, oy en esta semana se acabo la zanoria; y el tiempo ya esta poco frio; ya aqui mis Rentantes ya se fueron.
pues queda nomas la Anita Cardoza, ya las demas ya se fueron.
ya esta, esta, todo muy diferente bueno síempre se me ase poco triste;
te platícare que al Jerry lo mandaron para ese lugar Mísseesípe; pues yo no se sí me entenderas pero á ese estado donde no quieren á los negros; me dijo Helen que esta estudiando
page 3.
como de medecínas; pues yo entiendo como Medíco - como Doctor; pues así entiendo yo. pues no será; pero así creemos.
bueno tambíen mando pedír su rropá. y primero díjo que iba á Bernir como para Cristmas, y haora dise que no. bueno que Diosito nos ayude tu saves esosas guerras que tanto dísen;
aquí estan rezando una novena de missas el Padre empezando el Lunes que estamos á 29, Octo y se ba á cabar el 6 de Novem por intencion de la Paz del mundo;
bueno híja ay platicaremos yo creo que esto sera todo por oy.
Translation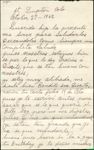 page 1

Ft. Lupton, Colorado

October 27, - 1962
Dear daughter, this letter serves me to greet you, wishing you a complete health, as usual.
Well, we are fine, and that is why I thank God, who is so good to us.
I am much better, I feel well, blessed be God. I received your letter dated October 14. Well, I had written to you to askwhat Billy boy wanted, but you didn;t tell me. So, I don't know what to send him, he's so big already that I don't know what to send him.
Well, so your Birthday is coming up, I wish you many
days like these, I wish that you get to meet your grandchildren, that you become a grandmother and great-great- grandmother.
So you ask about Max, well there is nothing now, today, this week, the carrot crop was finished. And is getting a bit cold here. My tenants are gone,
Anita Cardoza is the only one that remains, the rest already left.
Everything is, is very different and it's a little sad.
I'll tell you that they sent Jerry to that place, Misseesipe Mississippi. I don't know if you will understand me, but it's that state where they don't like the blacks. Helen told me that he's studying
page 3.
something about Medicine. Well, I don't understand. Something like a doctor, that's what I understand. Well, maybe it's not, but that's what we believe.
Well, he also sent for his clothes, and first he said he was coming for Christmas, and now he says that he's not. Well, God help us, you know about those wars that they talk about so much.
They are praying a novena of masses, the priest, starting this Monday, October 29th, and ending on November 6th, asking for world peace.
Well, daughter, we'll talk later. I think this will be all for today.