Original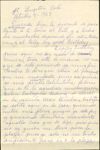 ft Lupton Colo

Octubre 4, - 1968
Querida híja; la precente es para saludarlos tanto á tí como al Bíll, y á todos los muchachos esperando que esten todos víen; y al Billy boy good Birthday
Heppy Bírthday
pues aquí no hay nada de neew nuevas, toda esta lo mísmo, no mas que se esta poníendo ya muy frío; Sandra te díre que recíví el parquete que me mandastes pues así quería yo mís pentes calsones calíentítos; deberas que sí te lo agradesco; muchas gracias. Helen trabajando todavía, el Markl en la escuela, Max tambien trabajan do yo solita aqui en la casa; queriendo meter mis flores, porque ya esta frío y queríendo tambíen mandarte aquella cosa que te díge; pero pues no ay quien me lleva para la plaza; pues yo sola no me tanteo sufísíente para ír a la plaza;
bueno híga; pues yo creo que esto sera todo por esta vez muchachos recuerdos par la Pam, Jane, Albert y para todos de Jess, y family, y de la Frances despues que se fueron Uds. ella víno á saludarte, pero - ya Uds se abían ído; pues pobre de la Frances, anda con la pena del Tony alcanza la penitencía;
pues que Díosíto nos ayude con esta famílía; porque los muchachos se estan asíendo muy malos;
buen me contestas cuando puedan Díosíto lindo que nos ayude, tanto á Uds. como á nosotros.
EL SEÑOR QUE TE ACONPAÑE
tu mamá Jesusita Torres
Translation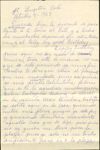 Ft. Lupton Colo

Octpber 4, - 1968
Dear daughter, this letter is to greet you and Bill, and all the children, hoping you are all doing well, and wishing Billy boy a Happy Birthday.
Happy Birthday
Well, we don't have any news here, everything is the same, just that it is getting very cold already. Sandra, I'll tell you that I received the parcel you sent me and that is how I wanted my warm underwear. I'm very grateful. Thanks a lot. Helen is still working, Markl is in school, and Max is also working, so I'm home alone. I want to bring my flowers into the house because it's already cold. And I've also been wanting to send you that thing I told you about, but there is no one here to take me to the store. Well, I don't get by well enough to go to the store by myself.
Well, daughter, I think this will be all for now. Much love for Pam, Jane, Albert and everyone from Jess and family, and from Frances. After you left she came to say hello to you, but you had already left. Well, poor Frances, she's always worried about Tony, who is to be sentenced.
Well, may God help us with this family, because the boys are becoming very wicked.
Well, write back to me when you can. May God help us, both you and us.
GOD BE WITH YOU
Your mom, Jesusita Torres