Original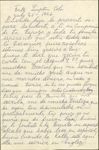 Forth Lupton Colo

July 25, - 1966
Querida híja, la precente es para saludarte, á tí en companía de tu Espozo, y toda tu famílía esperando que esten todos así lo Deceamos, pues nosotros estamos gracias á Díos; bueno te díre que recíví tu carta con el cheque $4.00, pues muchas Gracías que me escríbíste me da mucho gusto; anque no me mandes dinero, en cada y cuando Escríve sí tu no puedes porque dises que siempre estas cuidando; bay babies pero la Pamela, que me escríba, me da mucha tristeza, que se agan tan disimulados en - precipalmente tu; porezo yo no queria que se fueran legos; bueno yo le contesto á la Pamela en español alcabo que sabes leer en español; bueno cuando la Kathy esta aqui ella me escrive en ínglez;
parese que salío buena para el español, escríbír, y ablar; tambien pero la Kathy pues haora que se acabo el Colegío sí se vino para Lupton pero le escribíeron que sí quería trabajar de Secretaría haora en el Berano escuela para los chíquítos muchachos; de modo que no esta aquí; sí víene en los Sabados, pero se ba el Domingo en la lra tarde. bueno y del Billy boy que dice, todabia, le gusto el Collegío, ó ya le cuítío la Kathy me digo que te preguntara;
el Jerry dísen que no escríví que esta en N York pues yo creo que esta sera todo por esta ves recíban saludes del Jess y familia y de Max y de tu mamá; que les deceo mucho mucho en bíen y buena suerte en su casa new;
tu mamá
Jesusita Tores
Translation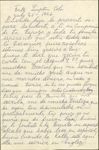 Fort Lupton, Colorado

July 25, - 1966
Querida híja, la precente es para saludarte, á tí en companía de tu Espozo, y toda tu famílía esperando que esten todos así lo Deceamos, pues nosotros estamos gracias á Díos; bueno te díre que recíví tu carta con el cheque $4.00 , pues muchas Gracías que me escríbíste me da mucho gusto; anque no me mandes dinero, en cada y cuando Escríve sí tu no puedes porque dises que siempre estas cuidando; bay babies pero la Pamela, que me escríba, me da mucha tristeza que se agan tan disimulados en - precipalmente tu; porezo yo no queria que se fueran legos; bueno yo le contesto á laPamela en español alcabo que sabes leer en español; bueno cuando la Kathy esta aqui ella me escrive en ínglez;
parese que salío buena para el español, escríbír, y ablar; tambien pero la Kathy pues haora que se acabo el Colegío sí se vino para Lupton pero le escribíeron que sí quería trabajar de Secretaría haora en el Berano escuela para los chíquítos muchachos; de modo que no esta aquí; sí víene en los Sabados, pero se ba el Domingo en la lra tarde. bueno y del Billy boy que dice, todabia, le gusto el Collegío, ó ya le cuítío la Kathy me digo que te preguntara;
el Jerry dísen que no escríví que esta en N York pues yo creo que esta sera todo por esta ves recíban saludes del Jess y familia y de Max y de tu mamá; que les deceo mucho mucho en bíen y buena suerte en su casa new;
tu mamá
Jesusita Tores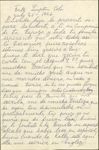 Fort Lupton, Colorado

July 25, - 1966
This letter is to greet you in the company of your husband, and all your family hoping that you are all well, so we wish. We are well, thank God. Well, I'll tell you that I received your letter with the $4 check. Well, thank you for writing to me, I really appreciate it. Even if you don't send me money, write to me from time to time. If you can't do it, because you say you are always baby-sitting, Pamela can write to me. It really saddens me that you pretend not to care - especially you. That's why I didn't want you all to go so far away. Well, I will reply to Pamela in Spanish, because you know how to read in Spanish anyway. Well, when Kathy is here she writes in English for me.
It looks like she turned out to be good in Spanish. Writing, and speaking too. Now that school is over Kathy returned to Lupton, but they wrote to her to ask if she wanted to work as a secretary now in the summer school for the little children. So she is not here. She comes on Saturdays, but leaves on Sunday afternoon. Well, and what does Billy boy say, does he like school or did he quit? Kathy asked me to ask you.
They say that Jerry doesn't write, that he is in N York New York. I think this will be all for now. Greetings from Jess and family, and from Max, and from your mother. I really, really wish you well and good luck in your new house.
Your mom,
Jesusita Tores